Welcome to the donation site for the Memorial Grove project at New Albany High School. This project is led by the National Honor Society at NAHS to design and rebuild the Memorial Grove to honor students and staff that we have lost in our learning community. Items from the original Memorial Grove have been secured and preserved to be added to the new Grove as it will be developed. Please view the giving levels below for ways in which you can support the project. This link will take you to additional information and resources to learn more about the history of the Memorial Grove and how you can be a part of this fitting tribute at NAHS.
Level Giving Donations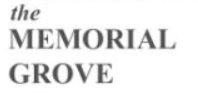 Venue
New Albany High School
7600 Fodor Rd.
New Albany,OH 43054
View Map